XDUOO XP2 Bluetooth USB DAC AMP REVIEW :


SOUND: 8/10
CONSTRUCTION: 9/10
DESIGN: 9/10
VALUE: 8.5/10
INTRO:

To say i'm an XDUOO fanatic is an euphemism, we can say instead i'm a compulsive-impulsive Xduoo products collector since more than 5 years. It begin with my passionate love for the Xduoo X1 and X2 DAP and overwhelming addiction to Xduoo X3 that I still consider the best product they ever made. After, I get interested in there Xduoo XD-05 DAC AMP to conclude this is again an incredible all in one budget audiophile dream. The XD-05 is responsible for my later addiction to deskop and portable amp as well as OPamp swapping obsession.
SO, when X-TENIK kindly propose me to write a review of this new Xduoo Bluetooth receiver, it fall in a perfect timing due to my new enthusiast about this type of device using an independant DAC to process bluetooth signal. Before I review other BT receiver like the Radsone ES100, I was extremely sceptikal about sound quality this type of technology can offer. Thanks to the AK4452 premium multi channel DAC used in the Xduoo XP2, because it take bluetooth signal to new level and offer tremendous sound performance only find in entry and mid tier DAP. But this isn't all, and what make the XP2 stand appart its the fact it have AUX IN as well so we can use it as a powerfull portable amp. Now let's see if this is too beautifull to be true as I will do my best to objectively review the XP2 and make comparaison with other DAC and AMP.
You can buy the Xduoo XP2 here:https://www.xtenik.com/product/xduoo-xp-2/
SPECS AND INFO:
Info about AK4452 DAC:https://www.akm.com/akm/en/aboutus/news/20150522AK4452AK4454AK4456AK4458_001/
xDuoo XP-2 24bit/192khz PCM Bluetooth 5.0 & USB DAC HiFi Audiophile Portable Headphone Amplifier
Description
Bluetooth 5.0
HD Bluetooth Transmission
High Performance USB Decoding
Independent DAC
2 Gain Adjustment
Bluetooth 5.0 HD Signal Transmission
Support high-definition signal transmission, through an independent high-performance professional DAC chip decoding, display a complete music signal with a better sound quality than the traditional Bluetooth audio equipment.
Flipped PC USB DAC
Professional decoding headphone amps let you listen to better music, USB receiver chips uses high-performance ship SA9123, works in asynchronous mode, supports up to 24bit/192khz PCM signal
IOS Device USB DAC
Professional decoding chip, let your Apple device become HI-FI player
Support up to 24bit/192khz PCM signals (Apple Camera Connection Kit is needed to use)
Android Device USB DAC
Professional decoding chip, let your Android device also become HI-FI player
Support up to 24bit/192khz PCM signals (the corresponding USB OTG connecter is needed to use)
Two stages of high and low gain adjustment
Support different sensitivity of the headphones, including in-ear headphones and headphones
What can it do for you?
Aux In / Provide High Quality Audio Source/ 2 Gain Adjustment
Professional amplifier, let you listen to better music
After Bluetooth / USB HD decoding, provide high quality audio source, you can connect it to the active speakers in your house, in order to effectively improve the sound quality of your speakers
Power Amplifier Circuit
The amp section adopts the OP+BUF architecture and its driving force is even stronger! The driver power supply provides +/-5V through a high-efficiency power conversion circuit, which can better drive the headset! The power output circuit adopts the OCL circuit structure, and no output coupling capacitor is required; The bass is calm and clean, and the sound is powerful!
Specification
Bluetooth receiver: Bluetooth 5.0, support AAC, SBC, aptX
Output Power: 245mW@32Ω
THD+N: 0.008% (1kHz)
Recommended headphone resistance: 16Ω-300Ω
Gain: +3/+9dB
Size: 105*56*15mm
Frequency Response: 10Hz~100kHz (+/-0.5dB)
Battery: 3.7V/1800mAH
USB sampling rate: Support 44.1kHz-192kHz, 16-24bit
Battery life: AUX IN: ≥15H Bluetooth input: ≥12H USB IN: ≥8H
USB receiver: Support Android mobile phone with OTG function and 192kHz/24bit lossless transmission at most, computer USB input, support with XP, Win7, Win8, Win10 (it is necessary to install drive), MAC system.
Weight: 115g
CONSTRUCION, DESIGN & ACCESSORIES :
UNBOXING is very rewarding here, as Xduoo do not forget any accessories to fully take advantage of its device : it have 1 USB to micro usb for charging and USB DAC, 1 small micro usb to micro usb L cable for OTG DAC as well as micro usb to micro usb type C L cable for newer phone OTG dac, a gold plated aux cable for audio input and a Xduoo silicone Pad double side sticker to hold togheter the Xduoo XP2 with your phone or DAP.
CONSTRUCTION is really impressive, but Xduoo rarely if ever disappoint about workmanship. Here its no exception and they go full metal and only piece of plastic you will find is the gain switch and the plastic side where the usb connection are and its to permit bluetooth signal to be properly sent.
The buttons are metal, the volume know is metal, 95% of body is metal and even the audio jack are metal. This device will sure survive to hardcore everyday use and promise long durability with such a great sturdy construction.
DESIGN is intuitive yet minimalist. You open the receiver by turning the knob and a green light between 2 jacks welcome you. I you have already selected Bluetooth fonction, it will atomatically connect to you phone or laptop and your ready to enjoy music. If its your first time connecting BT with your phone, perhaps you will have to push the rarely used BT link button.
INNER CONSTRUCTION is just a caprice of my curiosity about whole construction quality, so here again, I conclude this is seriously well built circuitry-clean and professional with all the stated compenents. But, I don't think it will be easy to change the battery once it die in some years (wich is a drawback to me).

SELECT button have 3 option that are shown trough light color at side of the button.
GREEN is for bluetooth mode.
RED is when USB DAC mode is on.
GREEN+RED Lights mixed togheter is for AUX in mode.
There no special color for Audio out, it will be audio in for amp mode and real line out (without volume control) for DAC or BT mode.
OTG DAC work flawlessly with my LG G6 and was just a plug and play enjoyment, I was very happy to have the L cable to connect it tightly too. Sound do not creat interference or any cliking unlike cheaper otg dac I try in the past.
USB DAC is same worries free plug and play and offer same sound quality.
BLUETOOTH DAC was easily findable and once connected for one time, i just needed to open XP2 and it connect by himself on the bluetooth device that was open.
BLUETOOTH reception is above average and can go up to more than 12meter in open space, as we cannot reivent physic laws, the signal struggle to pass trough thick wall as any other bluetooth device.
GAIN give extra 9db and will be able to drive properly anything of 300ohm and below, it will not be able to drive at full potential 600ohm headphone and can struggle with 160-300ohm one if they have very low sensitivity.
SOUND :
OVERALL SOUND IMPRESSIONS :
With the Xduoo XP2, we have a AK dac that remind me of AK4490 dac from Xduoo X3II, but with more bass emphasis. When used as BT receiver we have a warm, weighty sound, that tend towards a smooth overall rendering. Sub bass is more emphased than mid bass, mids are quite linear, not bright, near organic sounding, treble is smooth but well layered with good tone and soft timbre.
The sound is quite energic because of weight impact, but still warmly rendered, far from being analytical, it can remind of analog type of sound, laid back but resolved and greatly enjoyable.
As well, there a sens of transparency to layers, wich soundstage panoramic widness help to heard.
USB OTG DAC mode have the best sound rendering, it is clearer and more balanced than with Bluetooth. The bass have more control and details even if still slightly pushed fowards. Clarity of imaging is impressive. Details retreival are above average but not analytical, it feel natural and never cold or artificial sounding. The fact you can listen up to 192khz/24bit music files is a proof that the DAC is fully take advantage off in USB mode because there limitation to APTX 5.0 Bluetooth (48khz/24bit).
BLUETOOTH mode sound very similar, but little less agile and clear. The big difference is in bass warmness that feel less controled and stole some space in soundstage as well as clarity. Mids have little less body too, but overall sound is excellent, with a wide airy presentation and good transparency.
AMP mode is very usefull and make this BT device stand appart because of this great feature. It's quite powerfull at high gain, and I think the amping section is responsible for extra bass and warmness we have with overall XP2 sound rendering, This is up to the pairing for getting excellent sound, but earbuds lover should really think about this Bt Receiver as the go to solution for enjoying full potential of earbuds on the go, XP2 is just from another league for amping earbuds, headphones or hard to drive iem.
COMPARAISONS:
VS Radsone Earstudio ES100 (100$):
Here I compare mostly to the unbalanced output of ES100, because XP-2 do not have balanced out. Will add extra observation about 2.5mm balanced out of ES100 in they end.
I compare the 2 devices using my LG G6 as Bluetooth source, all file was ripped in FLAC. Music style are diverse, wich include indie rock (Thus Owl), Classical, Modern Jazz, electronic and Singersongwriter (Jessica Pratt).
I use these headphones for comparaison : Final Audio E2000, Koss Portapro, NiceHCK EBX earbuds, Hifiman HE-300.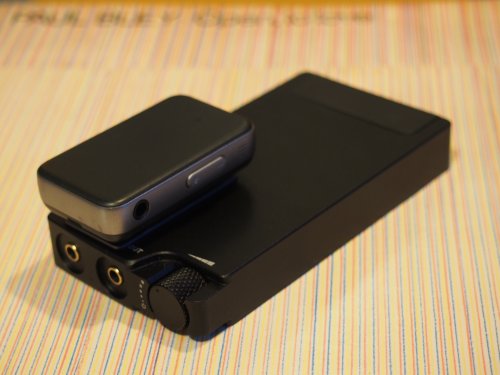 CONSTRUCTION of Xduoo XP-2 is from another league here, its all black metal that feel sturdy and have a high quality look, but its heavier than ES100 as well, 10 times heavier in fact as it weight 115g vs 18g for ES100. Output jack are made of metal, and again, of better quality than plastic one of ES100.
Anyway, whole construction of ES100 with the exception of the metal clip is plastic, and the size is 4 times smaller wich make the ES100 a real portable bluetooth dac-amp that can be clip on your clothes. The Xduoo XP-2 fit easily in your pocket, but is still less portable.
Even is way smaller, the ES100 have more buttons and features, you can change tracks, pause and play, and unfortunately, you cannot with the XP-2, wich is a real drawback. Biggest difference is the fact ES100 have 2 outputs, one unbalanced and one 2.5mm balanced that isthe star of the show with this device as it give more power and clearer background noise floor.
XP-2 have one 3.5mm output that is way more powerfull than ES100 and have a High gain switch that is very usefull as I prefer switch to firmware interface gain.
Big plus for ES100 here is the dedicated Earstudio application that permit to customise amping power as well as sound in multiple of way. The Xduoo XP2 do not have dedicated application at all.
SOUNDSTAGE feel wider with the XP-2, wich is especially hearable with headphones of more than 64ohm like the Portapro of Hifiman HE-300, wich sound a little thin and congested on the ES100. With lower impendance iem or earbuds, the ES100 show its superior talent for precise layering in a deeper soundstage as I can hear with Brainwavz B200 that lack clarity with the XP-2. In other hand, more demanding headphone will gain in soundstage and natural imaging, wich clearler show the pairing with trebly Hifiman HE-300 that sound very airy and gain in bass and softness with this pairing at high gain.
BASS of the XP-2 feel more extended as well as having more lower end presence with a softer mid bass presentation than more punchy and brighter ES100. The fact sub can stole some clarity to mids of XP-2 make the ES100 better controled, but less thick sounding too. Here the XP-2 will benifit high impendance headphones or bright sounding iem, while the ES100 will give extra clarity to low impendance iem or headphones as well as extra enery.
MIDS of ES100 are more fowards and bright, feeling more detailed but less wide and transparent than the XP-2. Overall sound of Xduoo is more natural and soft, while the ES100 feel analytical and more energic. Vocal can sound a little nasal with ES100, wich will not help for pairing with hissy earphone, XP-2 have great natural mids presence, warmer and more transparent than ES100, but the layering is less agile and detailed.
TREBLE extension of ES100 is more pushed, wich give more microdetails and texture than XP-2, XP-2 feel smoother with upper treble roll off and is more permissive with hissy music or earphones. It have better tone than ES100, and fuller timbre. ES100 have a more fowarded texture and clinical approachthat give extra resolution to sound layers where the XP-2 can feel too laidback.
VS ALPHA & DELTA BT RECEIVER(30$) :
So this is very different BT receiver, and one is 3 times cheaper than the other, but as I do not have a big collection of this type of device, I think it's interesting to compare it for consumer thinking about doing an upgrade for higher priced receiver.
Well, if you just have very sensible IEM that are very easy to drive and offer tremendous sound (aka, no cheap immature IEM), I think perhaps you don't need to buy a powerfull DAC-AMP BT receiver Plus Stand alone AMP. But if you have any demanding iem or a pair of headphones (whatever the impendance), yeah, must certainly you will benifit from a BT receiver that have some amping power to it, because no, the Alpha Delta do not have lot of amping power, in fact, perhaps your phone have more.
Alpha & Delta BT receiver is an ultra small portable device, wich is perfect to transform your iem in wired BT one, for that, I suggest you buy a small mmcx cable and begin this budget iem collection with detachable cable because 90% of BT earphones have….wire.
Being extra small, it really cannot compare to amping power of XP2, and we don't talk about high gain here. Just the fact XP2 is a standalone portable amp too justify the price jump, but the sound is suppose to be better as well due to an independant dac chip, aren't it??
To be honnest the sound paired with easy to drive IEM is quite similar, the soundstage of Xduoo being wider but warmer, weightier too, while the Alpha Delta receiver is more analytical and cold sounding. But, when you use any less easy or capricious to drive iem , earbuds or headphones, the A&D begin to struggle and sound thin, lacking in power, while the XP2 begin to shine even more expanding soundstage and give extra weight and presence to bass and mids, and being able to drive near anything up to 300ohm….this IS the big difference,
So, this is a 30$ device against a 110$ one…and XP2 win everywhere but for ultra portability, as well as tracks changing buttons, wich even a cheap device have, hum.
Sound improvment is sure there, but biggest plus is the amping power and extra feature like usb dac and amp with audio input etc.
VS LG G6:

Did I really need to do this?
G6 sound congested, dry and have background hissing compared to vivid XP-2 sound.
SOUNDSTAGE is immense compared to frontal G6 presentation that lack deepness and feel artificial.
BASS is way better controled and have rounder more weightier presentation.
MIDS are wide and lively, they are well layered while the G6 have them stick on a cardboard soundstage.
TREBLE is clean, with hint of brillance and great layering while the G6 feel dry and bright and veiled.
(extra) PORTABLE AMP COMPARAISON WITH IBASSO BOA D2+.
I will not compare DAC section here, just amping because BOA is not a BT receiver.
The BOA have about same amping power than XP2 but a longer battery life that can go up to 30H.
Construction is pretty basic and look more like a DIY project than a real professionaly made one, so the Xduoo XP2 with is from another league here and more portable as well due to less thich body.
Overall sound of BOA D2+ amp section is brighter and more grainy and lack the smooth finess of XP2. As well, background noise floor of XP2 is blackest and near perfect while BOA D2+ have some hissing.
BASS have more body and impact with XP2 and can feel quite thin with the BOA.
MIDS are brighter with BOA, with it have thicker more natural timbre with the XP2.
TREBLE is strangely affected by BOA rendering and became more dry and grainy, this can give the impression the BOA is clearer but in fact it have more distortion in sound and affect highs negatively.
PAIRING IMPRESSIONS:
With IKKO OH1 Hybrid :
This pairing sound extremely good, even if the OH1 are on the bassy side already, here the overall control seem better and gain in body timbre, this is mostly due to expension of soundstage given by plenty of amping capabilities of XP2.
MIDS too open up in the big soundstage, and feel less rough in upper range, as well, they gain separation from other instrumental. Overall clarity is excellent as well.
Treble feel smoothed out a little, around 8khz and 14khz, but it do not stole details, just some brightness there and there, wich in fact benifit the OH1.
With Hifiman HE-3000 :
Again, this pairing is excellent, as the HE-300 can sound too cold and analytical, here the XP2 warm the sound as well as injecting some more bass to it, wich was lacking before.
The bass gain in sub and impact and give extra body to mids.
MIDS became more natural and less grainy, more bodied and have a wider presence.
Treble wich was very fowards is softened too, giving an overall darker tone that i feel make the HE-300 more musical, as highs was to sharp and agressive before.
For once rightly amped by a portable amp, the HE-300 became a very listenable headphones and we can thank the XP2 saver as I will surely used them more because of him.
With the Faaeal 64ohm earbuds :
(XP2 Bluetooth+high gain)
At 64ohm, I feel these need proper amping and will sound too thin with not enough juice.
Here, again, everything look to open up more and gain in weight and presence, but not much in timbre.
The bass became way more controled and bodied, wich take me by surprise because I didn't think the Faaeal can offer this type of round bass in a clear not distorted way.
MIDS wich was already fowards became better layered from rest of instrument, vocal becaming softer, more present and more transparent, wich give a less opaque mid centric soundsignature by adding extra air and widness to soundstage.
TREBLE is more extended too, especially around 10-14khz, where the Faaeal was feeling too soft before, as if extra amping give the highs better decay and brilliance.
All in all, a superb pairing that clearly benifit this earbuds.
CONCLUSION:
Xduoo make some error lately with some of there DAP like the D3, so I was a little afraid this device don't hold well its price ratio performance.
I was so wrong, so so wrong!
It's the opposite that happen, as even if features look minimalist at first, we fastly discover that the XP-2 is way more than a simple Bluetooth receiver. The genius idea of Xduoo here is to make the XP-2 a stand alone portable amp of great quality that offer powerfull clean amping with physical high gain button. This permit to the usb or bluetooth dac to be way more versatile in amping power than all other bluetooth receiver on the market right now.
The sound quality is a clear improvment from any laptop and surely any phone, its clear, immersive, wide and lively withouth any congestion or distortion to the sound.
Sure XP-2 is a little bigger than Radsone ES100, but it is still is very portable and will offer more pairing or amping possibilities that can benifit your hard to drive headphones, non amped usb DAC or any of your DAP with line out.
If you search for a simple and intuitive Bluetooth receiver that will be able to properly amp any of your headphones, earbuds or iem, I'm convince only the Xduoo XP-2 have enough muscle for this task.