THE PLUS:
-smooth and crisp reference grade sound quality
-highly resolving and transparent
-neutral high fidelity tonality
-add clean depth to spatiality
-incredible imaging
-blacker than black noise floor
-powerfull single ended and balanced output
-balanced line out
-coaxial out
-stable easy to use UI
-excellent construction and elegant design
-long battery life of up to 12 h (perhaps more)
-no lag found after near one month of daily use
-excellent usb DAC and Bluetooth DAC (Ldac)
-pre install Hiby Music and Google play store
-great construction
-extremely competitive price and sound value
THE MINUS:
-neutral tonality might lack euphonic excitment for some
-light dynamic tend to make good IEM pairing more mandatory
-their seem to have slight sub bass roll off
-timbre might lack density and warmth for some
-small buton are hard to blind control with the case
-again about the case, it lack the micro sd slot
-physical high gain switch would have been welcome
TONALITY: 8.5/10
TECHNICAL PERFORMANCE: 9.2/10
AMPING QUALITY-QUANTITY: 9/10
BATTERY LIFE: 8.8/10
FEATURES: 9/10
BUILT QUALITY: 9/10
SOUND VALUE: 9/10
PRICE VALUE: 9.5/10

INTRO
TEMPOTEC is an old but understated audio circuit, DAC and DAC-AMP company. They have help Hidizs creating DAC-AMP and DAP before but now work as a serious independant brand too. They were known for the Tempotec Serenade and Sonate serie, but get on the map worldwide with their first dong best seller, the Tempotec HD PRO that I praise alot at the time.
In term of DAP, they have only create 1, the Tempotec V1A, an entry level ultra portable DAP with smallest touch screen on market as well as incredible amount of feature including possibility to connect dongle. But in term of sound and power output, it was disapointing. Construction too wasn't the most sturdy. But this is a story from the past and Tempotec continu to evolve and improve, should it be with their latest serie of dongles like the HD V using dual ES9219 and sounding marvellous or their new music station solution, the Serenade X, this company never finish to surprise us.
Today I will review their very first serious Digital Music player, the Tempotec V6, and Android DAP using dual AK4493SE DACS and 6 OPamps. This mid-tier DAP is agressively priced at 400$ and promise high value both in sound and features. It have bidirectional Bluetooth, USB DAC, Audio in and out, 2 line out and 2 audio out, long battery life, and plenty of other possibilities.
But what import me the most is the sound quality, let see if it truely can be consider as high end DAP with high fidelity sound performance in this review.
Technical Specifications:
Series : Variations
Model : V6
Operating System : Android OS 8.1
Screen : 4.2'' 720P Touch Panel
CPU : Snapdragon 425
ROM : 16GB
RAM : 2GB
Expanded Memory : 1x MicroSD card slot up 2TB
DAC : 2*AK4493SE
OP-AMP : 2*OPA1612 + 4*OPA1688
SNR : 124dB
THD+N :-111dB
DNR : 124dB
Crosstalk Level : 84dB @32 Ω (3.5mm SE) / 116db @32 Ω (4.4mm BAL)
Bluetooth Codes : LDAC, AAC, UAT, APTX, APTX-HD, SBC
WiFi : 2.4GHz / AirPlay
Analog Input : 3.5mm Single Ended & 4.4mm Balanced Line Out
Output Interface : 3.5mm Single Ended & 4.4mm Balanced PO
Output Power : 330mW/32Ω/3.5mm 610mW/32Ω/4.4mm
Output Level : 2VRMS/3.5mm, 4VRMS/4.4mm
USB In/Out : USB Type-C Charging/Data trans./USB DAC/USB Audio)
Battery : 4500mAh
Battery Life : 13h Headphone Out, 15h Bluetooth (SBC)
USB Port : USB Type C
Size : 53.3mm×92.5mm×11.5mm
Weight : 240g
CONSTRUCTION​
The craftmanship of V6 have nothing to envy to other mid-tier DAP, and their nothing underseen in it's design and hardware. The main body is made of aviation grade alloy, very sturdy and resistant, with an added tempered glass for its back and high quality 4.2inch glass touch screen on it's front.
The left side of V6 is beautifully carved for a unique look and have an high quality potentiometer know with 100 volume step, each step are felt and make a welcome click noise. This knob act as a power buton if holded and close or open the screen when pushed. It's made of metal and doesn't feel cheap, too light or too loose. Under this we have a light that will show bit rate quality changing color, you can put it off in menu if it annoy you. Under this , 3 metal butons are there to change track and pause-play, they work with any apps, yet i find them a little small and too close to each other for my big thumbs, which make it difficult to precesily push the pause buton when needed. With carrying case it's even more difficult, so this is the only drawback i found with this design. Well, at left side we have micro sd slot in the DAP, but not in protectetive case, this is another small drawback.
The V6 is over packed with output choice. And the quality of jacks are excellent, all gold plated metal, no cheap plastic to be found. From left to right, we have 4.4mm balanced and 3.5mm single ended output, USB-C Input and output which can be use as pure DAC line out with special coaxial cable as well as for connecting USB-C dongles, we have 3.5 se line out and a very welcome 4.4mm balanced line out too. Nothing less than Incredible.
Tempered glass are fingers print magnet as everybody know, well, in fact, we have pre install protective screen on both side of the DAP, which are finger prints magnet too but prevent scratching. Overall built feel very sturdy but dropping on the floor a DAP with glass touchscreen is still not suggested. The size is very portable at 53.3mm×92.5mm×11.5mm and will fit most pocket even if a bit chunky. The weight of 240g is not very heavy, yet 40g more than my LG V30 phone, so you do feel it in your hand and even more in your pants pocket. All in all, the construction is elegant and sturdy and reflect it's 400$ price.
When it come to packaging and accessories, their nothing to say. But it's important to note the Kickstarter package will include a special USB-C to coaxial cable as well as bonus micro sd cards depending of offer you get. Mine came with bare minimum. The very welcome leather protective case and a good quality USB to USB-C cable. Oh, and a cleaning cloth i forget to include in the pic. Box presentation could have been better, but i'm more interested in quality of what we get, and for that Tempotec do deliver.
USER INTERFACE​
Everybody that have an Android phone will be very familiar with V6 interface, and i'm not worry about Iphone user neither since this is very easy to use and understand device.
In fact, what will inflict the most on your music player experience is the music app you will choose. As well as how you will decide to custom your Android interface.
The included music playing app is Hiby Music, which is excellent and perfectly fitted for the V6 need. If you need other one like UAPP (Usb Audio Player Pro), the google store too is preinstall and very welcome.
Now, we talk about Android 8.1 as well as rather basic Snapdragon 425, this seem to worry lot of potential consumer. While it's true it's not lightning fast, it will be only "problematic" for nitpicky users that really don't like to wait 2 second to see the X appear at the upper left of the app he wanna close. Or that can't stand see an album cover in Music app scrolling take 1 second to appear. In fact, the only complaint I would have with overall performance which is smooth, stable and fast enough, is limited to less than16G of space, already shorted 3.6G by Android System. Since we can download FLAC music from Amazon HD, Tidal etc, it would be nice if we can store those files securly in V6 memory storage.
I will not cover all options that are too similar to Android phone. For audio usage, their 2 option setting that are important.
CONNECTED DEVICES
This setting is important because it is where you can select Bluetooth reception or sending. You will find those option by pressing Bluetooth once it's ON. By default it send Bluetooth and when you press "Bluetooth Audio Input", this is what happen:
Well, when it's connected, since it will write "waiting for pairing" until you connect it to your phone. As well, don't forget to go in your phone setting and choose "Best sound quality" since phone choose "Stable connectivity" as default.
Other important option of this setting is the "Default USB configuration", this is where you can choose USB-C type of connectivity in Default. So, if you choose "Charging this device" it will charge when you plug it to your Laptop or phone, while share files if your choose "Tranfering Files". When it come to "Audio IN (usb power)" and "Audio IN (no usb power)" this will inflict on passive dongle that don't have battery and deliver more power, for ex, UAPP app sound less loud with Moondrop Dawn when "no usb power" is selected.
AUDIO SETTINGS
This is the setting all audiophile are the most curious about.
It include 7 sounds filter choice, these do not inflict alot on musicality but tend to have subtle change on dynamic sens as well as attack edge and timbre. This is very subtle and only hardcore critical listener will make fun with this. If you are sensible to resonance of instrument and micro definition in attack timing, this can be usefull.
We have Gain option, Low or high gain. I think High gain add either 6db or 12db, but im not certain since I can't find back the specs. Nonetheless, 3 gain mode would have been interesting for more precise matching with IEM of different sensitivity and impedance. As well, we need to go out of music app to select gain, which isn't the most practical.
Plugins open another sound tweaking universe that I need to test, for example, there 4 plugins available in Online section, which include Balance, Sound field, Fixed Sample output and the most intriguing one: Convolution.
This Convolution plugin only take effect at 44.1khz and can modify the soundsignature in different way, this is math algorythm that affect directly the input digital decoding and will modify impulse response of the music.
We have Hiby MSEB, another way to tweak the sound intuitively, for those that are afraid of EQ without preset, this could be a game changer. It affect timbre, tonal balance, attack speed and weight and oot of other sound parameter. The fact that MSEB is already available in Hiby Music app make it less interesting, as well, some user might forget it's ON and add another MSEB effect in Hiby music.
DSD gain compensation is interesting, you can add up to 12db to compensate lower dynamic volume gain that higher bit rate can create. The fact it's not limited to 6db will make lot of users happy.
Channel balance talk for himself, and most music app have this anyway.
Max Volume is very welcome and can avoid unwanted max level volume ears damage, it will block the volume step to level you want. I put it at 80.
SOUND IMPRESSIONS​
(the Final A8000 are my reference IEM, but I use 20 other IEMs with the V6 for this review)
TONE-BALANCE-TIMBRE-MUSICAL PERCEPTION
The V6 deliver a smooth neutral sound with crisp open treble and added sens of airy clarity. Effortlessly analytical, yet never clinical, it offer an highly revealing and transparent musicality with a romantic twist to it's concept of high fidelity since the overall balance is liquid, organic and highly cohesive, with homogeneous bass and mids range and vivid highs with delicate brilliant sharpness.
AKM call their house sound as "velvety" and natural timbre has always been about avoiding unpleasant roughness in texture or peaky brightness in treble. V6 timbre is highly transparent, yet nuanced in it's density color and while not the thickest, it isn't dry nor thin to the point of feeling compressed, distant or artificial. Free of grain, it have this tube like softness to it with a resolution that permit you to pick up small details of texture if you seek for them.
While extremely linear in it's tonal balance, i perceive a slight mid bass presence bump that add sens of attack, it add more immediacy to impact as well as grip to definition, keeping a clean separation with mids, not adding any resonant warmth. Low end is leaner in sub bass region, which tame rumble of bassy IEM but add texture and clarity to definition of bass line too. Is it roll off? Let say it doesn't give extra power to bass dynamic which i will devlop furter.
Mids are the leanest frequency range. It's highly resolved and have a magnify sens of realism and accuracy to it. Level of transparency is excellent. Instruments playing in same range are well define in their individuality and keep their own different loudness range. Accuracy is spot on, yet again unforced. This is the type of mids that seem to have softed upper mids, adding hint of breathyness to vocal instead of sibilance.
Treble is star of the show and it never stop to impress me with it's ultra crisp and clean resolution. The V6 tend to add snap and brilliance to every IEM i pair it with, the highs have long natural resonance that never go shrill, it's isn't amplify in decay loudness, just very revealing. This DAP seem to make you see in the dark like a owl and hear up to 200khz like a bat. The treble is delicate in it's impact yet can extract clicking like noise of your music in the purest, sharpest way, adding a sens of crackling richness to micro details, texture and instrument attack grip.
TECHNICAL PERFORMANCE
RESOLUTION
Crisp with smoothed edge, their no sens of blur in macro resolution and micro definition is well paint in presence, full of nuance and lush in transparency. This is near analytical resolution, but seem cleaned of any unpleasant hiss or noise too, as if it just a slight warmth to lower treble.
SPATIALITY
In my opinion, DAC part inflict more on spatial clarity and deepness while amping section inflict more on dynamic heft and spatial wideness-tallness. If i could find a comparison, i would say V6 spatiality remind me a small hall, which is quite wide and tall but have great deepness too. It's not super wide or out of your head but sens of deepness is boosted.
IMAGING
This is an highlight of the V6 which offer very accurate and precise instrument placement with wonderfully transparent layering that permit use to dig deep in sound info. Instrument separation while not the widest is crisp and clean, this is the same with sound layers, they aren't holographic in presentation yet have clean space between them. It seem that high pitch instrument have sharper definition in separation, which add sens of extra space and air.
DYNAMIC LOUDNESS
Here the V6 is very polite, even if not dead flat in dynamic punch it's loudness variance seem to be tamed a bit to avoid loudness peak or overly agressive livelyness. This give a cloudy feel to impact, instead of edgy one, as well lead impact doesn't have lot of weight to it and more a sens of "sudden presence apparition"….sound appear front of you instead of hitting you with vibrant pressure. I can call this safe dynamic with , since it favorize lighter instrument like woodwind, harp, clavichord, sharp percussions, than heavier hitted instrument like toms, drum, piano, cello or acoustic bass.
ATTACK SPEED SUSTAIN RELEASE
The V6 is a technical beast and it is shown in complex busy music where you need fast attack timing. Sustain isn't fuzzy or too long and create a well resolve resonance after impact that isn't boosted in loudness avoiding phase distortion of multiple resonance gain. Low and Mids attack edge is more softed than highs, which seem to offer faster edgier snap.
AMPLIFICATION POWER & QUALITY​
The V6 use 2xOP1612 for first stage amplification and 4xOPA1688 for high gain amplification. This translate into a consequent power output of 330mw@32ohm for single ended and an impressive 610mw@32ohm for balanced output at high gain.
Output level of 3.5mm single ended is 2vrms while true balanced 4.4mm output is the double at 610mw.
Impedance output isn't stated, but seem rather low because i dont encounter hissing or distortion issue with my sensitive IEM even with balanced output.
Amplification is powerfull, clean and linear. It remind me a bit of THX AAA amp in term of stable current flow. Noise floor is extremely black and doesn't extract noisy artefacts. Gain stage seem very stable since it drive low sensitivity IEM without any issue, no distortion with the Final E5000 nor for any planar IEM i test. This is near reference grade in term of well controlled amping performance, yet the dynamic doesn't get totally waken up it seem.
EARPHONES PAIRING​
I pair the V6 with at least 20 different IEM, from low to high sensitivity and impedance. Those who pair the best was all having a bassy balance, like the warmish THhifi Character that have a cleaner and better balanced tonality with less boomy impact and extra treble brilliance, this is a very good matching.
Even drived at high gain balanced way, the Audiosense T800 doesn't distort and deliver a cleaner balance as well, sens of imaging is sharper and layering gain in transparency, we have an added sens of air on top that benefit the tonality. While near basshead with certain source, T800 sound notably more neutral and technical, yet doesn't completly loose it's bassy fun and rumble.
When it come to very hard to drive IEM, the capricious Final E5000 surprise me yet doesn't charm me. It surprise me because the V6 drive them properly to deliver clean bass free of distortion caused by lack of power, the extension is linear and doesnt warm the mid range as much than with other source like Xduoo Link2 Bal. Result is a cleaner airier but dryer E5000.
A pairing I'm not very afound of too is with Final A8000, the bass is understated here and lack rumble and full bodied presence, it gain in definition and texture but not in weight. Since it an IEM with vivid dynamic, good bass punch and sharp near analytical treble, I was expecting a more edgy, snapy and sparkly presentation.
Surprisingly, the Kinera Hodur pair well too, perhaps due to it's energic W shape dynamic and already airy treble, here the V6 solve bass resonance issue and make the punch more tight and well define while the mids too get smoothed in upper mids yet push in presence resolution. The treble gain in appealing brilliance free of noise.
And when it come to my Hifiman Sundara, let say it can drive them without any distortion even at max volume which will deliver ear-destruction clean loud sound. Yet, these benefit from extra bass and mids dynamic and the V6 sure don't boost this region. Suprisingly, the Sundara sound open and airy and have crisp imaging here so this sure mean they are well drived. Here, Sundara gain in spatial deepness, sound a bit better define in imaging and treble gain in brilliance. They become more neutral, open and airy. But even leaner in bass and mids so a bit boring too.
All in all, neutral treble centric IEM isn't the best match while those with bass or mids or both freq range boosted will sound very good, some time mesmerizing. In fact, V6 love IEM with upper mids boost too, which perhaps explain why they pair better with CHifi IEM than Japanes ones! The UM 3DT is a very dynamic sounding IEM too, and they pair incredibly well, so my suggestion is to use very dynamic sounding IEM or Headphones with the V6!!
COMPARISONS WITH DAP AND DAC-AMP​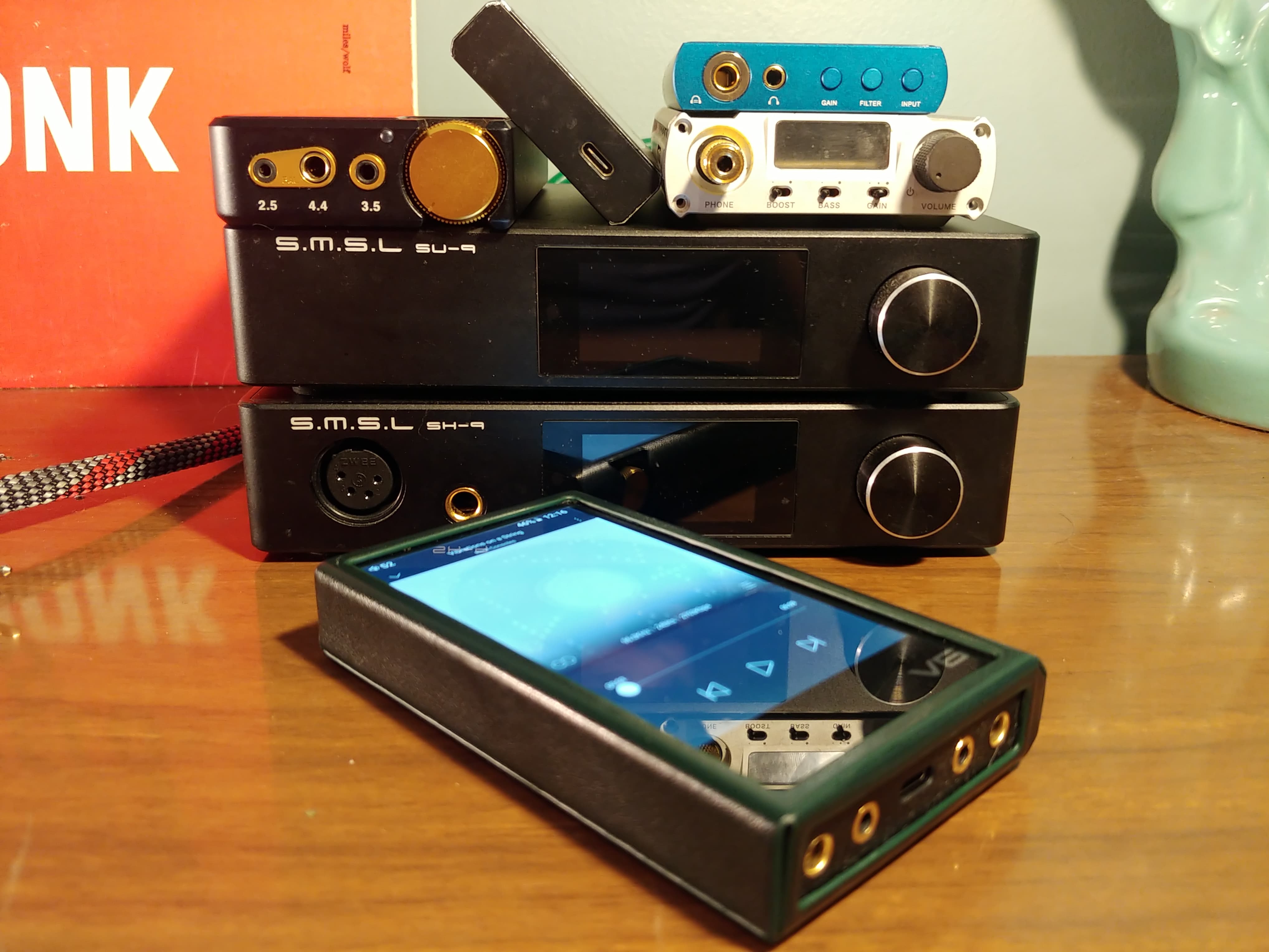 VS SMSL SU9+SMSL SH9 (about 750$)
The SU9 use flagship ES9038pro DAC while SH9 is a more powerfull THX AAA amp with 2W of output. This is an unfair fight, yet the V6 doesn't feel like a midget here.
SMSL offer a slightly brighter tonality with more vivid dynamic and more holographic spatiality. The bass is even more leaner and dry than the V6 but mids are fuller and more upfrond with greater dynamic range but not as transparent timbre. Spatiality is more open, wide and tall but about same depth than V6. Attack edge have more bite while treble is less crisp, sparkly and airy but more cohesive as a whole than V6. Imaging is more precise with greate space between instruments with SMSL too. Indeed, it wasn't a fair fight and here the V6 sound leaner and colder.
VS XDUOO XD-05plus (280$)
This is interesting because XD05plus use older AK4493 DAC yet sound nothing like the V6. Again it's brighter but grainier too, due perhaps to higher power output of 1W, dynamic is more weighty and bass have more rumble and slam, yet warmer definition and separation. Tonal balance feel more W shape with upper treble roll off. Technical performance are notably inferior: resolution, imaging, attack control and speed feel all blurred and more affected by harmonic distortion. Timbre is thicker, but more fuzzy and less transparent. Spatiality is wider but way less deep. Let say XD05plus sound very euphonic and entry level compared to more resolved and technical V6.
VS XDUOO X20 (280$)
This DAP use single ES9018k2m DAC, it's tonality is a bit similar to V6 but in a edgier and more clinical way. We can say it's less of a slight V shape in balance so everything is lean until extra treble presence, these highs are brighter and less sparkly than V6. Bass is more textured with X20, in fact, everything is more textured with X20. Spatiality feel more compressed, less wide and tall and deepness is less clean in bacckground. Power output is 2 times lower in balanced mode (300mw). Impedance output might be lower or on par. Dynamic is more energic but not as varied as V6 when it come to multiple instrument playing in same range, so imaging feel more compressed and lacking in clean separation space compared to V6.
All in all, i feel the V6 is perfect upgrade for those that like me appreciate the reference mature neutral musicality of X20, since V6 technical performance are notably better and well, right now you can get it at same price as X20!
VS XDUOO POKE2 (450$)
While the Poke2 use dual cirrus 43198 flagship DAC, it's the nearest to sound quality of the V6 with very similar tonality. Its even more pure crisp neutral. Bass is more detailed yet more lean too. Mids are a hint more upfront. It seem even cleaner too, since complete silence in a track will have even less ultra background humming. Attack edge is less softed. Treble seem a hint more metallic and overall presentation more digital. Power output is similar. Overall musicality feel more clinical and cold with the Poke2, a bit more distant as well. Note weight is even lighter.
If for me musicality of V6 is border line in term of dynamic energy, the Poke2 bore me to death.
VS TRI TK2 (280$)
Ok a last one. This time it use dual ES9038q2m DAC and special A-B amplification that can deliver more than 2 times V6 power output with it's impressive 1250mw@32ohm. TK2 is warmer neutral with more boosted mid bass that add warmth to timbre and mids, but slight euphonic blur too. Resolution is inferior and darker, attack edge even more smoothed. Bass hit with more weight and density, yet less well define separation. Mids are lusher and more open but tend to affect macro resolution and embrace the whole tonality, they are less clean and detailed than V6. Treble is less airy and sparkly, with lower micro details amount. Imaging is notably inferior and less sharp. Spatiality is wider taller, drastically less depth. Timbre while more colored, feel more natural and pleasant, thicker too than V6. Tonaly wise their no doubt I prefer TK2, yet technicaly their no doubt V6 is superior from blacker background to sharper attack definition to more extend treble and more high fidelity accuracy.
CONCLUSION​
There's alot to love about the Tempotec V6, i mean ALOT. And it's not only it's extremely competitive price for such a pristine craftmanship.
This is to me a budget End Game reference sounding DAP with enough features to make it a Do-it-all music station even including the possibility to change it's sound in multiple way, should it be using different apps, plugins, MSEB tone EQ or PEQ, or even changing the DAC using a dongle when you feel like enjoying different musicality. The possibilities are literally infinite.
Bluetooth DAC, USB DAC, dual line out and pure coaxial line out….
Will I complaint about Android 8.1 here or old Snapdragon CPU? Absolutely not, since i will never use the V6 to watch movie or play game. This is NOT a phone, yet, if you add a mic and camera it could have been a phone.
And this is where subjective appreciation come to play. I'm not a big fan of Wifi DAP, and for touch screen, it can be usefull if it doesn't limit tactile butons. Yes, i would have love more butons control and better thinked design in that regard, unless i'm the only human with big thumbs, the small butons are a bit problematic and their no way to fast fowards music.
V6 choose to follow other DAP company and is succesfull in this way, in fact, they surpass lot of them which is incredible for a first real DAP offering.
Their no doubt the Tempotec V6 is among most competitive DAP in term of plain price value, and I don't talk about questionable product like Zishan DAP but a serious mid-tier quality one with no lag or quality check issue.
If you enjoy smooth neutral sound that deliver ultra clean resolution with incredible micro details and nuances, the V6 will transform all your IEM into audiophile experience, improving their resolution and spatial deepness and never struggling driving properly any of them. The V6 might be supreme DAP army knive budget minded audiophile were waiting for, it's a statement of sound refinement and high fidelity, with a mature musicality that doesn't sound clinical or over done.
Highly recommended!
———–
PS: I want to thanks Tempotec for sending me this review sample. I'm no affiliated to this company and i'm unbiased by the fact i'm a big fan of them. This review reflect my honest subjective critical listening and opinions.
You can buy the Tempotec V6 on KICKSTARTER right now, and hurry up since the early birds are on sale for 280$, after this, MSRP price will be 400$:https://www.kickstarter.com/project…6-dsd512-android-hifi-music-player?ref=a9ml4s
For more diversify audio reviews, give a look to my No Borders Audiophile website HERE.