MOONDROP SPACESHIP REVIEW :

SOUND: 7/10
CONSTRUCTION: 8/10
DESIGN: 7.5/10
VALUE: 7.5/10
THE PLUS:
Nice and Clear vocal
Decent laid back sound
Great construction
Super small housing=perfect sleeper
The SO-SO:
Dry anemic bass
Lack of attack
Thin timbre
Small soundstage and poor imaging
NO BS HALF-RECOMMENDED!!
MOONDROP audio company have been around for years and begin by creating very well received earbuds like the VX PRO, Nameless or flagship Libesleid. After this earbuds period, they begin creating interesting earphones like the Kanas Pro and Crescent.
I personally just own their Nameless earbuds, wich impress me for their airy and vast soundstage. Today I will review their entry level earphones call SPACESHIP wich replace other entry level model CRESCENT.
Selling for 20$, the Spaceship is very affordable. It use a 6mm microdynamic drivers and have a beautifull chrome plated brass metal housing. Now let's see how it sound.
The SPACESHIP can be buy directly from Ali express Moondrop STORE

DISCLAIMER: I wanna thanks Moondrop for contacting me and sending me this free review sample. I was very intrigue about their Kanas iem, so I can't say no to try their entry level iem either. As always, i'm fully independant and fully keep my subjective integrity as an unbiased reviewer.
INFO & SPECS :
Brand Name: MOONDROP
Connectors: 3.5mm
Control Button: No
Active Noise-Cancellation: No
Style: In-Ear
Communication: Wired
Vocalism Principle: Dynamic
Volume Control: No
Wireless Type: None
Codecs: None
Support Memory Card: No
With Microphone: No
Model Number: SPACESHIP
Resistance: 16Ω
Frequency Response Range: 20-40000Hz
Function: Common Headphone
Function: For Mobile Phone
Function: HiFi Headphone
Sensitivity: 104dB
Waterproof: No
Is wireless: No
Line Length: 1.2m
Plug Type: Line Type
Support APP: No
ACCESSORIES, CONSTRUCTION & DESIGN :

UNBOXING is minimalist and on par of what we can expect at this price range. Still, its nice to have a little carrying pouch at this price. The rest of accessories is 3 pair of silicon eartips.
CONSTRUCTION is very nice and surpass what we can expect for a 20$ iem. The housing is made of thick glossy metal, have an appealing oval shape and is very small. This type of housing is very durable and promess trustable sturdiness. The cable is basic but of good quality too with a metal jack.
DESIGN is mostly well thinked, especially for the small housing size that can benifit people searching for an iem for sleeping on. Its very comfortable to wear and will fit any ears size. Still, this iem is thinked to be wear cable down, wich create serious microphonic noise. Wearing it over ears solve part of this problem.
ISOLATION is average and there is some noise leakage due to 2 venting hole under the housing.
DRIVEABILITY is quite easy at 16ohm impedance and slightly low 104db sensitivity.
SOUND :
SUBJECTIVE SOUND APPRECIATION is a so-so one that work for me half of the time depending of the music style that is playing. For near anything that got electric or acoustic guitar, I find the Spaceship quite capable and enjoyable, but for anything that need bass energy, I find them to sound too flat and dry. The Spaceship have an intimate soundstage and basic imaging that make them sound dark and laid back, with important emphasis on mid range that is just slightly brigh but very soft in attack avoiding sibilance but excitment too. I wasn't mean to love the Spaceship lean mid centric and relaxed soundsignature but more I listen to them more I became accustomed to their sound that have just enough punch in mid bass and extra upper treble crispness to make them enjoyable. The tuning is cohesive, timbre is transparent and treble can give (much needed) extra excitment time to time when the music you listen take advantage of it. No wow effect, no head banging, no fascinating musical contemplation, the Spaceship do not make me travel far but make it at least for a safe ride.
SOUNDSTAGE is rather compressed, and avoid to be stock in your head due to some spacial deepnest, still, its intimate and not airy.
IMAGING too is compressed, instruments are very near one to eachother to the point of mixing togheter time to time, I find it hard to take apart instrumental in anything that have more than 4 instruments, for pop, rock or folk it wasn't a big issue.
BASS is flat, transparent, slightly dry and have little bump in mid bass to give a soft punch and extra separation from the rather anemic sub bass that have notable drop before 20hz. Control of sub bass is a little sloppy wich affect tonal realism of bass line. Mid bass is quite tigh and avoid warming the lower treble too much, the kick is more weighty than punchy, making the attack retained.

MID RANGE have more presence but is darkish due to a soft timbre that lack details. Vocal sound transparent, thin in timbre, clear and polished. They aren't full bodied or thick, and lack a sens of naturalness making them a little lifeless in rendering. Instrument like violin or piano too lack liveliness and texture. Attack is too soft, wich affect instrument separation and accuracy. Strangely, electric guitar sound quite good, not too strident and quite clear, giving them extra presence as if it was tuned for rock music.
TREBLE is smooth and delicate, with extra presence in upper range that can benifit percussions or acoustic guitar by giving them extra brilliance. Still, its not very sparkly and you will not have lot of decay. Level of details is average as well as overall clarity. The Spaceship aren't agressive sounding or too peaky, in fact whole sound is danger free and super polished.
SUB BASS : 6/10
MID BASS : 7/10
MID RANGE : 7.5/10
TREBLE : 7/10
TIMBRE : 7.5/10
ATTACK-DECAY : 6.5/10
SOUNDSTAGE : 6/10
IMAGING : 6.5/10
CLARITY : 7/10
COMPARAISONS :
VS KBEAR KB06 (30$) :
Compared to KB06, the SPACESHIP to offer notably smaller soundstage and for a spacial ship, it do not have a big space to travel into either, while KB06 is above average for its little price and offer more space between instrument, or more specifically between low, mids and highs frequencies range. BASS is as well more authoritative and pumped up with the KB06, making the Spaceship sound more neutral and flatter and lack in lower bass extension. MID RANGE have as much presence but due to more spacious separation, vocal and instrument do not mix as much with KB06 wich keep them cleaner and offer greater definition. TREBLE is more extended with emphasis in upper highs for the Spaceship, wich give it extra sparkle KB06 lack, classical guitar or harp have more brilliance, but the attack is less energic than KB06 wich make overall listen flatter and less exciting than KB06.

VS FINAL AUDIO E1000 (30$) :
Both similarly priced, the Spaceship win in term of built quality because of its sturdy metal housing compared to cheap plastic one of E1000. In other hand, I find the Final Audio cable to do less microphonic as well as being easier to fit properly over ear.
SOUNDSTAGE is wider with E1000 and deeper with Spaceship. IMAGING is more accurate with E1000 and offer a more spacious layering in whole spectrum range compared to Spaceship that struggle with instrument separation in a balanced way.
BASS is weightier and punchier with E1000, timbre is warmer and thicker too while Spaceshipp sound dry and more transparent, lacking in impact and rumble compared to E1000 but in dynamic separation too. MID RANGE is slightly more recessed (or balanced?) with the E1000 but offer more details and better instrument separation than the more mid foward Spaceship wich have thinner timbre. When vocal occur, it tend to overshadow other instruments unlike the E1000 that treat whole mid range in a flatter more accurate way. TREBLE is more emphased in lower and mid highs with E1000 while Spaceship have a peak in upper highs that offer more brilliance to percussions and microdetails but sound more artificial and metallic than E1000 wich offer lusher sound experience.
CONCLUSION :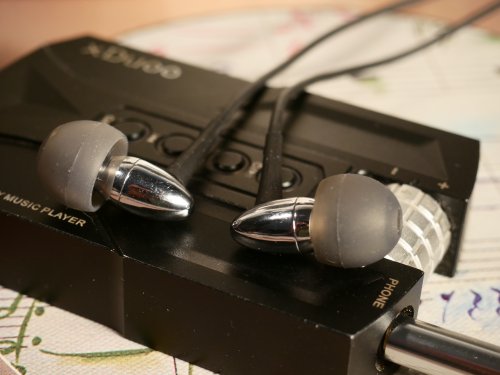 Fairly priced at 20$, the Spaceship offer a smooth mid centric sound with good transparency. The small housing as well as gently laid back sound is perfect for sleeping time. While its neither the most revealing, exciting or accurate sounding iem in its price range, the Spaceship will please audio enthusiast that listen to rock, folk and instrumental music. I find this earphones very music genre specific, so it most be noted that it will neither suit bass lover or details lover. All in all, at this little price, we can't complaint.