TEMPOTEC V1-A (+ V-1 Digital Only model) REVIEW:
SOUND: 7.5/10
INTERFACE: 9/10
FEATURES: 10/10
CONSRUCTION: 8.5/10
DESIGN: 10/10
BATTERY LIFE: 8.5/10
VALUE: 9/10
NO BS SUPER RECOMMENDED!!!
THE PLUS:
All features you ever dream off and even more
USB DAC as well as USB DOCK STATION
Awesone Bi-directional Bluetooth (can be use as a DAC-AMP bluetooth receiver)
Intuitive interface with stable firmware
Good battery life
Nice responsive touch screen
Nice smooth sound (AKM dac)
Price Value
THE SO-SO:
Power output isn't very high, so only for IEM
Sound will be too warm-neutral for some
High gain do not really work
TEMPOTEC is known for being the OEM manufacturing and engineering company of some HIDIZ audio product, like the Hidiz Sonata and Serenade. Lately, they decide to create their own unique products, so we cannot confuse it with Hidiz ones. The Tempotec V1 was firstly lauch and V1-A follow.
V1 is a Digital ONLY music player, wich is different than a Digital AUDIO player because it do not have any audio output and it serve only as a portable music station that can send audio trough bluetooth as well as USB C cables. This might feel like an odd device, but in fact its an extremely usefull one for those that have one or more DAC-AMP, should it be the Type C to 3.5mm output little Sonata DAC-AMP, the Audirect BEAM, Radsone ES100 or Xduoo XD-05 or whatever other strange DAC-AMP you have likemy beloved DIY dac-amp collection, V1 will transform them into DAP. The V1 do not have 3.5mm audio output but a coaxial output.
V1-A is the very same device, but it can be use as a USB (or OTG) DAC-AMP and have a 3.5mm output so its a Do-it-All type of DAP, one that have so much features its near overwhelming.
Respectively priced 89$ and 109$, this very unknow audio device sure offer tremendous value and are thinked for ultimate portability, they are among the smallest DAP i own and guess what? They have a very responsive and fancy looking touch screen as well. Now, let's see if its a solid contender with a mature firmware that can deal with this numerous features they have.
I will do here a 2 in 1 review because 95% of content is the same, the exception being sound impressions section for the V1-A, V1 will have a section about DAC-AMP pairing, but this features is cover by V1-A as well.
TEMPOTEC V1-A is sell only at PENON store as well as official Aliexpress Tempotec STORE
To note that Tempotec store often make sale, and right now both the V1 and V1-A have 10$ discount!
DISCLAIMER: I wanna thanks TEMPOTEC for sending me this reviews samples free of charge in exchange of my honnest review. As always, I'm as sincere as possible and as severe as possible about overall value of these products.
INFO-SPECS:
TempoTec Variations V1-A AK4377ECB DSD256 Bluetooth APTX USB DAC HiFi DAP
Description
1200mah battery capacity
High precision crystal oscillator
Low noise PLL technology reduce jitter
Exclusive USB driver
Dual direction Bluetooth
MSEB Mixer
AAC
DSD direct stream digital
LDAC
AKM4377ECB
Hiby OS
ASIO
HiByLink
Colorful theme
AKM4377ECB Well-performing built-in DAC
768khz/32bit advanced audio headphone DAC, AK4377, the advanced audio devices have been specifically optimized for portable audio.
Smooth cohesion between aluminum alloy shell and 2.5D tempered glass front panel
Exquisite components, Exclusive MCU
Just for excellent sound quality
Highly reproduce the original music
Digital mixer-MSEB makes you an excellent tuner
Bluetooth base station
Dual direction AAC, Apt-X, LDAC, Bluetooth 4.0
Be either a Bluetooth or a Bluetooth decoder 。
Time of Duration
Playing by Bluetooth: 25h
Playing music directly or as a Bluetooth receiver: 15h
Excellent Control Feel
2.0 inches multipoint process capacitor screen
Full perspective IPS screen
Smooth control
Specification
Dimension: 80*45*12mm
Weight: 80g
SNR:125DB
Output power:60MW/16ohm(mono channel)
Power Supply: DC5V
2A/Type-C USB port
Charging time: 2.5 hours around (power off)
Last time: 15 hours
Battery capacity: 1200mA
Storage: Double TF card slot
MAX storage capacity: 256GB*2
USB: Type-C (USB2.0)
Analog Out: 3.5mm headphone jack
Package
V1A DAP
USB cable
ACCESSORIES, CONSTRUCTION & DESIGN:
ACCESSORIES is very minimalist. With the V1 you have pre installed protective screen sticker, a usb to usb c cable and Usb c to micro usb cable. With the V1-A its a Usb to usb c and thats it. This cable is both use for charging or using usb DAC. It would have been nice to have usb c to usb c as well because most phone use this type of cable and V1-A dac-amp is very fun to use. Unobxing is nothing to write about, a little box with an instruction manual etc. Both device use same box….I hope they will make a V1-A box because I think this will be the device that will be the more popular of both.
CONSTRUCTION at first sight is very very nice, but as we said ''devil hide in the details'' and well, only flaw about cosntruction I can find is the rather cheaply glued touch screen that can worry for futur durability, anyway, after 2 months of use of V1 I do not encounter problem or any ungluing, is just for perfection freak and the fact this player look very beautifull and this little details stole someof its pristine craftmanship splendor.
So, we have the touch screen that take about half of the screen size but is cover by a resin plastic that look like glass. If it was glass, i would be more worried about dropping it on the ground so its a wise choice of material and do not affect very bright image. Rest of body is made of metal, a nice maten black alloy that is very similar to Xduoo D3 or X3ii, it feel high quality and good in hand. Buttons are made of nice quality plastic. All in all, construction feel very good and have as well good weight to it, that comfirm its not a cheap empty body at all.
DESIGN is sweet and sleek, it will fit any pocket even from the tighest pair of pants you own, just don't slide it in your speedo or bikini because it isnt waterproof. Even if most control is made trough touch screen, you have volume control at left side and track changing, fast-back fowards, play pause 3 butons at right side, at the top its power on-off, screen on-off buton. The button are well so you dont mix them up and press them by error, for example it have a little bump on the play-pause buton that is in the middle of 3 control playing buton, so you can easily blind change track or pause-play it. Again, they were lot of thinking for user interface hardware design and it proof Tempotec isn't new in this game. At left side we have as well 2 micro sd slot and for once, and its well made one that do not let a part of you card exposed. TOUCH SCREEN isnt as cheap as one would have expect at this price and especially this size, no, its very responsive and very similar to my LG G6, the lightest touch will be enough and well, you can do lot of thing with this screen, but I will cover this subject in next section of this review.
FEATURES :
You are spoiled with an Overwhelming number of interesting features with both the V1 and V1-A with the difference that V1-A have an audio output using AK dac and can be use as USB DAC too, making it even more interesting than V1. What impress with this device is how everything can be customize to your taste, should it be Bluetooth preference, play setting, sound setting or EQ, the numbers of options is just mind blowing.
OVERALL INTERFACE IMPRESSIONS :


I wasn't expecting a so much refined DAP in term of features and control, i was thinking that the control will be clumsy, minimalist with a basic touch screen and that the small sizze will make it barely usable. I was wrong, very wrong. The touch screen is fast and super responsive, you do not need to press the screen, as well, the interface is very intuitive and well thinked because even when the screen is close you can control everything you need like changing track, pausing, fowarding, play with volume. Tempotec really work hard on the firmware and touch perfection in term of versatile control, unlike other touchscreen DAP, you aren't dependant on touch screen even if the interface is flawless this way too.
TOUCH SCREEN INTERFACE:
Even if the screen is quite small, I find the touch screen easy to use and very responsive. I can imagine that the size will be problematic for people with big fingers, but I use it with my thumbs without problem. Menu can be scrolled smoothly and you can even swipe from right to left to go next options pages. As well, when you in Home page, a left swipe will make appear playing song with album cover and playing options. This is a very well made interface, intuitive even if it have a lot of options to play with.
As well, when the screen is off, you can still change track, play-pause them and fowards-backlwards themusing physical side butons. Nope a phone can't do that.
Still, this is a Browser based DAP, and it would have been wiser to use the touch screen more appropriately than having to explorer folder. I like to be able to choose from album covers like we find in most phone music app or Ipod, but here its the list of albums name that you will have to scroll wich is less intuitive.
BI-DIRECTIONAL BLUETOOTH: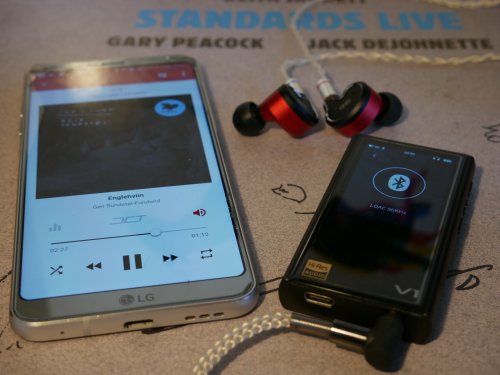 Oh, man, I love so much this features wich I only find in Bluetooth receiver likethe Radsone ES100 before i fall in love with this Tempotec V1-A genius. Bi-directional bluetooth mean you can transmit or receive bluetooth. This transform the V1-A into a Bluetooth DAC-AMP receiver so you can hook your phone by distant and play Spotify or any streaming apps on it. Playing LDAC, you got highest quality possible wich mean there no sound degradation at all. I just cannot stop being wowed by the V1-A, I mean…you have 2 type of DAC-AMP with it, usb or bluetooth, but you can hook any DAC-AMP too…so fascinating to have such audio freedom!! As well, you can use you phone to control the V1-A via bluetooth, so if hooked on a sound system you now have a remote control.
BLUETOOTH (signal quality etc) :


Again, this is not your normal minimalist Bluetooth that just sent standard quality signal, with Tempotec you can choose between LDAC (quality priority, standard or auto), APTX and SBC depending of your connection compatibility. About signal stability, its excellent and i do not occur sound clipping or cutting at any distance under 10 meter.
No need to be worry about any lack of features with the Tempotec, it cover it all. Gapless playback (even with extra crossfade if you want) : check. Resume play fro last track or position : check. All type of play mode from shuffle to loop list or single : check. DSD Output mode : check. Play trough folders or albums : check. Max volume setting, Fixed power on volume or memory, gain, balance : all check as well.

USB MODE :
You have 3 usb mode to choose from wich is Storage, Audio and Dock. This do not affect the 3.5mm audio output and will be use for file transfer, usb digital out and audio dac. All work perfectly.
USB DAC is plug and play and it work with anything I plug it too. No driver needed.
DOCK mode is to use OTG DAC-AMP connected to the device, wich both V1 and V1-A can do.
STORAGE MODE is to have acces to inner micro sd card when you plug it in you Laptop.
Yes, the V1 and V1-A have the nice Hiby link wich work perfectly for dual bluetooth connection. You can use you phone as a remote control for you music, seing every cover albums.
MSEB (DSP MIXER (Sound customizing special EQ)) :
For fan of EQ and sound tweaking, the Hiby MSEB (Mage sound Eight ball tuning) will be a very welcome feature. Its a combination of multiple algorythm based on parametric EQ (PEQ) and sound filed adjustement to enhance particular sound signature for your earphones. Some work better than other, but the very intuitive interface is quite precise and really can modify sound rendering in all direction. There 10 (20) sound change you can make, all with +100 or -100 control.
Overall Temperature for adding brightness or warmnest
Bass extension for making bass lighter or deeper
Bass texture for making the bass more thumpy-softer or Faster-dryier
Note thickness for more crips sharpness or thick weightness
Vocals for making them more dark and recessed or fowarded with added noresence
Female overtone for rounding up upper mids and presence or adding upper mids and brighness
Sibilance Low frequencies to add softness warmnest or cripsnest texture
Sibilance High frequencies for extra softness or crispness
Impulse response to add slower dynamic musicality or faster harder brighter tone
Air to add play with soundstage by stoling or adding some air and clarity
To my ears, some parameter work better than otther, like adding brightness can really improve details, Vocal can really be push foward, Sibilance can tame upper mids sibilance and Air expend soundstage. The MSEB have its own purpose and can be add to the other 10 bands EQ if your a sound tweaking freak. Anyway, i find this way more interesting than EQ preset and it can be use more easily and intuitively for tweaking specific soundsignature.
10 BAND EQUALIZER :
From 31Hz to 16khz you can add or lower gain with 12 steps and tweak frequencies range as you want from the tips of your finger with the touch screen, making this EQ extremely precise and fast too use. The use of touch screen is excellent for this EQ, compared to the Xduoo X20 or other DAP EQ that take very long to set with butons, you will be able to achieve perfect customize tuning in less than a minute. And yes, it can positvely change the sound and do not tame or veil it like some other bad EQ I try. With this EQ i can add highs sparkle to my Brainwavz B400 or make my too bassy iem more controled and U shape one more punchy etc.
CATEGORY:
I do not realy use this option, but yes, you can make PLAYLIST with the V1-A, you can even load them. You can make Favorites list too. You can choose by Genres, Artist or Album too. As said, Tempotec think about EVRYTHING FOR EVERYONE!!
BATTERY LIFE :
Tough battery life is stated at 25hours, it all depend of the use you have. With V1 its way lower than this depending the type of DAC-AMP you use. If its powered, it will drown the battery slower, but still, you will not have more than 8H, with very power hungry dac-amp that aren't powered like the Doug Audio USB Dac-AMP with dual TDA dac, battery hold about 2H max, but this is similar than when using with my phone. With Audirect Beam, wich isnt powered too, it hold easily 8H. What i say here, its that battery life isn't previsible in otg DAC-AMP mode.
Using 3.5mm output from V1-A, battery hold quite long, but again, not 25H if you listen at high volume like me, and due to the fact this DAP isn't the most powerfull you need to crank up the volume higher with it. So I got about 10-15H depending type of music files I play, higher is the quality, lower is the battery life.
For Bluetooth, I feel battery hold longer, wich is strange as Tempotec state the opposite. Anyway, I prefer my cabled iem so its not a big plus for me.
CHARGING in another hand is quite impressively fast because you can use fast USB C charger and in about 30 minutes its fully charge. Yep, another big plus.
OVERALL FEATURES IMPRESSIONS: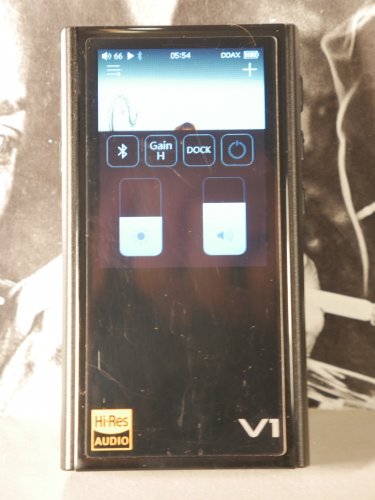 I just can't cover every features this DO-IT-ALL marvel offer, I mean, it even have the hour….the right one..magically. I don't understand, but this little feature is really rare in DAP world. All is in details, and the engineer of this DAP are so perfectionnist it deserve sincere admiration! I test more than 30 DAP in my life and never encounter one like this TempoTec V1-A, it just came from the futur. For example, when you swipe the screen from down to up, you have easy acces to option like BT, Gain, USB mode or sleep time. On the Play screen you can choose shuffle, repeat etc. Just a press on + and it show whole list of option like Add playlist, EQ, View album, properties of track and Delete. Say like this it look confusing but it ISN't its very intuitive and well thinked. Its pure GENIUS. I don't even talk about Low power mode, wich extend batetry life. DSD output mode, nope, haven't even tested. The TempoTec is a fascinating DAP that need LOT of time to discover but not to enjoy.
I mostly use easy to drive iem like the Brainwavz B400, Audiosense T300 and KZ ZS10PRO to test the sound of V1-A, because with high impendance or low sensitivity iem like the Final Audio E5000 it tend to sound dull and lack dynamic.
BUT with the right pairing, the V1-A proof to be a very capable DAP with quite low distortion, clean smooth sound, natural timbre and good transparency.
This is pure (and even softened) AKM DAC soundsignature : smooth, velvety, natural, buttery with a laid back musicality, unlike AK4490 dac, the bass is smoother and whole sound more neutral with a slight treble roll off that avoid any harshness and sibilance. This can be boring with too warm iem, or a healing for brightess or upper mids peaks.
BASS isn't emphased or colored, have good control and natural tone, a very tranparent timbre. It do not have lot of impact due to a restrain dynamic amping. Still, it can dig lower not and do not hide anything, just a gentle and innoffensive way of presentation.
MID RANGE is the best part of V1-A, its clean, transparent, have natural buttery timbre and quite wide presentation of vocal. Layering is better than imaging, in the sens it have an intimate way of presenting wholemid range instruments in a cohesive way. Its warm mids without offensive attack or upper mids emphasis, i feel their even a slight dip in this region wich will tame sibilance to most vocal harshness, for example the ZS10PRO sound smoother and more natural with the V1-A, timbre is more polished.
TREBLE isn't particularly analytical and will not help your smooth iem to crave more microdetails, as well, background isn't the blackest one even if their aren't lot of hissing. Still, yes, their some with very sensible iem. Again, its softened, perhaps even tamed treble, the opposite of a Sabre ES dac but kind of similar to Xduoo X3ii sound presentation.
Timbre is natural with thick transparence, hint of texture, no grain at all and some lushness. Definition is polished and ''sandy'' wich do not help for imaging clarity, as if the ''sands'' of instrument definition mix togheter gently.
Overall sound is on the WARM side, with slight emphasis on bass and mids range and just enough treble to permit good resolution. Attack-decay and clarity are all average for the price.
COMPARAISONS :
VS AUDIRECT BEAM (100$) :
Firstly, the BEAM is a little less powerfull than V1-A but i'm suspecting it have lower background noise floor, especially for very sensible IEM like the 9ohm Audiosense T800. This is perhaps normal as the beam use a different Sabre DAC know for its high level of clarity and low THD. Anyway, for this review I will match both volume at same level and use very same IEM for comparaison, wich are the Audiosense T800, KZ ZS10PRO and Final Audio E2000.
SOUNDTSTAGE is wider with the V1-A while the BEAM have a more intimate feel to it with slightly deeper clearer background.
IMAGING is more accurate and sharp with the BEAM, but the layering is less transparent.
BASS is more roll of with the BEAM, wich give a drier, thinner presentation, where the V1-A have more roundness and thickess but less details and well defin attack-decay.
MID RANGE have more presence with the V1-A, and vocal feel wider and more foward, the BEAM win in term of accuracy, attack and definition, the clarity is better but overall presentation is brighter and more intimate.
TREBLE is notably more extended with the BEAM, highs have more sparkle and decay, we hear more micro details, but to the cost of having a metallic taste to it and slightly cold sound. V1-A sound warmer and more natural with the right pairing, while the BEAM can give you details freak wow effect.
VS Xduoo X3 (100$):
The X3 is among my favorite 100$ DAP but it isn't as fully packed with features like the V1-A, it do not have Bluetooth, cannot be use as USB DAC and even less as portable digital DAC-AMP player. Still, it have dedicated line out and an indestructable construction with an easily DIY changeable battery (if you got basic DIY skill). It make 5 years I own mine and it still work very well, only the battery need to be changed as it now hold 2 hours only. I don't expect V1-A to last as long, but who know. Anyway, in term of features V1-A sure feel from a futuristic device. In term of power tough, the X3 is a little more powerfull.
Sound is night and day and very opposite, due to the excellent Cirrus CS4398 dac chip of X3, the sound is more refined and lively.
BASS is tigher, faster, more detailsed as well as weightier, the separation from low end and mid bass is better too, sharper than more mixed up warmer slower and softer bass of V1-A.
MID RANGE again is more lively and have better separation, while V1-A vocal feel stick above other layers of sound, X3 have more space and deepnest due to better clarity and lower THD. Attack have more grip and timbre is brighter, wich do not tame upper mids sibilance unlike the V1-A.
TREBLE is more emphased and refined, it dig more texture to upper range instrument as well as microdetails in background of music.
VS Xduoo X3ii :
Now, we have more similar DAP, both using AKM dac, but the X3ii use higher end AK4490eq. Still it do not have as much features like Hiby link or the possibily to hook any otg dac-amp to it. As well, the battery life is lower, but the output power is higher and construction look slightly more durable due to the fact it do not have touch screen.
In term of sound, these are pretty similar, but the X3ii is more refined and musical than warmer less accurate V1-A.
BASS is more transparent, controled and smooth with X3II while V1-A is thicker bassier but with less accuracy in separation from low to mid bass.
MIDS are clearer with X3ii, and have better separation but the vocal are a little less fowards than V1-A.
TREBLE is more delicate and airy with X3ii, you will hear more micro details than V1-A.
DAC-AMP DOCKING:
Whatever I plug into the V1-A or V1 work perfectly! Its really plug and play and get recognize easily with stable connection that do not produce any clicking wich can happen with my LG G6 phone when for example I plug the Audirect BEAM. Should it be the Radsone ES100, the beam, the Xduoo XD-05 or even my strange collection of DIY DAC-AMP it work GREAT! One very important things to note is that if you plug a battery free device that is very power hungry like the one you see in the picture above, well, battery life can drown very very fast. 1 hours for some device. Still, its incredible that everything work!
TEMPOTEC proove to be a great audio company to look at, and I can't wait for their next creation. If they can do another DAP with higher end dac as well as dedicated line out this would sure take audio world by storm. The number of features they could fitin such a tiny device is just insane, and even more the fact the firmware is very stable and that I never encounter any bugs with it.
Interface is intuitive, touch screen responsive, number of features are overwhelming in a good way, battery life is great, the sound is quite nice and if you don't like it you can hook any DAC-AMP you have it will work. Man, i'm really in admiration of this genius DAP!
If you search for the one and only DO-IT-ALL-THINK-IT-ALL DAP that have bluetooth, hiby link, diverse high end EQ, plenty of customization possibilities, docking DAC-AMP station, USB DAC, ultra portable size, great battery life and more, the TEMPOTEC V1-A is the only one to choose because unlike other DAP, he is unique and Unbeatable in term of price-features value.