SOUND: 7/10

CONSTRUCTION: 6.5/10
DESIGN: 7/10

VALUE: 5.5/10
Hifiman got good reception among audio community for there RE-400 and RE-600 IEM models, both using great dynamic drivers. With the RE-800, its the first model using the Topology driver technology that we can find as well in the TOTL RE-2000. This do not mean this 700$ IEM sound the same than 2000$ RE-2000, but there some similarities in how sound feel detailed and balanced without feeling too forced or trebly, even if they are more sharp in vocal region than the RE-2000.
Still, this 500-800$ price bracket have alot of competition. Can the RE-800 be a valuable option in term of price value? I will share my toughs about this in this little review. Must be noted that there a new RE-800S model with a much needed detachable cable, the one I have is old version.
DISCLAIMER: This is a review sample loan, no money is involved and I have no affiliation or family link with HIFIMAN company. All my toughs are full independant and my objectivity is as purely subjective as possible.
SPECS:
Frequency Response : 5Hz-20kHz
Impedance : 60Ω
Sensitivity : 105dB
Weight : 0.95oz (27g)
9.2mm Dynamic Driver with Topology Diaphragm
24K Gold Plated
Silver Coated, Crystaline Copper wire
Let's be clear here : i'm not impress at all by this 700$ IEM construction and I think it's a issue with near all Hifiman product including there DAP, they just don't give lot of effort for durability and use of great sturdy material. I remember how I feel insecure with my Hifiman HM601 at the time, built was really cheap, especially the type of plastic used. Having read lot of complaint about quality check issue with there IEM and headphones, I don't unserstand why they don't give more effort in construction aspect. This IEM, for near 1000$, is just an insult in term of construction as we can find better one constructed at about 50$ these days in china.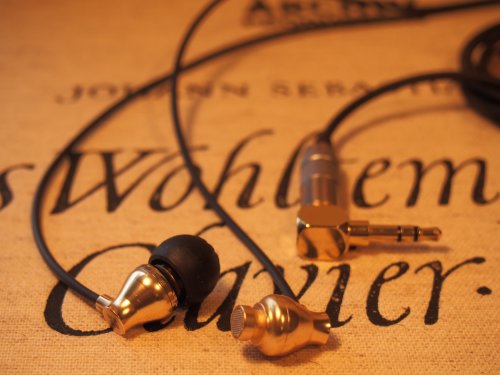 The cable is so so and create lot of microphonic, the housing is gold plated but that's all about his fancyness as it can be scratch quite easily. The L plug is the same used in lot of cheap chinese detachable cable, and I find it too big as well.

Housing is very small, wich is nice, but as the cable create microphonic it make it less interesting.
All in all, I would not have been impress by this type of construction even if I pay 100$ for the RE-800.
Even if very small in size, sound do not feel too small and have an above average soundstage, it offer a slightly bright soundsignature with good extension in both end.
Vocal are fowards, but a little too sharp for me, it sound grainy and tend to be harsh or nasal sounding sometime, and lack expansion. This is really where the RE-800 feel imperfect, perhaps some people will like this type of presentation but it isn't my case. RE-800 offer an overall foward and bright presentation with good treble extension but a lack of air and an average imaging.
Bass is tigh and punchy, not very thick or round, but it have good texture and great speed. RE-800 aren't bass light, neither are they V shaped, more W where its the mid bass that have the more impact, so it do not feel loose or too rumbly and give great energy to rock and jazz, even if it lack weight for electro or beat heavy music. As well, it can create sometime distortion with music that have too much sub, wich confirm the low ends have an issue in 20-150hz region. Cello lack body and sound quite thin because of this, wich is a big drawback for such pricey earphones.
Mids are treble fowards and very textured, it isn't particularly sibilant but can feel too bright and peaky for some, especially in upper mids region. Vocal are well separated from rest of instrumental and have an inviting presence wich you have no choice to listen to, so invitation is forced and colored alot, and its a hit or miss game depending of signer, if signer have a grainy voice it will sound dry, its subtle, but lot of time it happen that I just say to myself: man, I don't like listening to this type of vocal presentation. I prefer clear and warm and organic vocal with less opaque timbre, here we have an agressive vocal presentation that will not suit all music genre and feel shouty with smooth signers. It have some hissing as well, another time depending of the signer. For instrument, this fast and agressive treble presentation can be good, like for classical, where violin will sound agile. I don't think mids are exactly recessed, they are push fowards with treble in a non natural way.
HIGHS are were the RE-800 shine, it have a very revealing treble that give extra resolution and texture to instrumental. The sparkling highs help to give a sens of clarity and dynamic that it lack naturally, it show microdetails easily but isn't particularly harsh. What it lack is decay and air to extend beautifully, because of this the RE-800 sound sometime dark even if detailed, as if it lack PRaT bravado. I hear details but they do not have a special impact and dynamic to them, and feel underline by a magnifiing treble.
SOUNDSTAGE as said is slightly above average, nothing impressive here, it lack deepness and especially air and even if imaging is good overall sound isn't very immersive.
COMPARAISON :
VS HIFIMAN RE-2000 (2000$):
Now between those 2 we don't talk about small diminushing return in term of sound upgrade for the price, the RE2000 is just way above the RE800 in every aspect. It's quite simple the RE2000 is like a perfect version of RE800, it have more bass, more body in mid, more soundstage, more everything even details with a smoother presentation. The RE800 just have more treble and it isn't a plus even if it can make the sound feel a little airier (in a smaller soundstage). Don't take me wrong, the RE800 do sound very good and very musical and even perhaps more linear and balanced than RE2000, but it have a fowards soundsignature that lack RE2000 magic refinement and feel less like a IEM you can cherrish forever where the RE800 sharpness in highs will create ear fatigue to treble sensitive people. Bass is way thinner with RE800 and lack body and texture, it feel kind of boring and even if it go deep, it do not feel like it, the RE2000 is more muscular and accurate and feel tigher too, from another level. The vocal is less lush with RE800 and feel restraint a little. Where the RE800 show his talent it's in the highs wich crave lot of details, and lend towards analytical soundsignature for a very revealing presentation but the RE2000 do not lack in this region and I prefer the smoother peaks it have that give plenty of microdetails and excitment without feeling agressive like the RE800. All in all, if your about to buy the RE800 at full price, try to find a deal for the RE2000 instead, sound upgrade is just IMMENSE!
VS CAMPFIRE AUDIO POLARIS (600$):
The Polaris are from another league in every aspects, the soundstage is like 4 times wider, taller and deeper and instruments separation is way clearer and have more air. Bass is rounder and more impactfull and never distort and go deeper. Mids are more fowards and airy and realist and musical. Highs are more detailed and perhaps a little sharper in upper highs but it isn't an issue. RE-800 feel absurdly congested compared to these incredible performer and even if they were sell 500$ you will feel cheated by such an underwhelming sound presentation.
VS TIN AUDIO T2 (50$):
Soundstage of T2 is wider deeper and more airier and instrument separation is better as well. Vocal of T2 have more body but less texture, they feel less hissy as well. Both have about same level of details but the T2 feel more realist because of way wider soundstage and a little more impact in bass and mids, where the RE-800 have more highs treble emphasis. RE-800 feel faster and tigher because sound have less natural decay. As well, T2 have a detachable cable and an overall better construction if we take the price in account. All in all, I feel the T2 is a better performer and have more musicality, and all that at a 14 times les expensive price.
CONCLUSION:
I really don't understand why this very mediocre earphone have such great reviews on headfi and I suspect that it's perhaps due to selled ass semi-biased reviewers. At 700$ we can't be as permissive as with sub 100$ IEM and the RE-800 just do not deliver a precious high end sound and have very amateurish flaws that will even make me mad with a 100$ iem, like overall thin and near congested sound, small soundstage, peaky treble and non musical vocal. If your about to spend 700$ on these, wait a minute and try to find a store to listen to them as well as other 200-800$ iem, i'm pretty certain you will prefer the Sennheiser IE800 or Campfire Audio Polaris over this way overated and utterly overpriced IEM. As a chinese brand, Hifiman should check out what can be find these day in IEM chinese market, because I honnestly find this IEM ridiculously so-so sounding for the price and will suggest any TFZ, BQEYZ, Senfer, Ibasso, Brainwavz, Zhiyin, Tinaudio, Macaw, Magaosi or PMV chifi iem over them.